Common Vocabulary For TOEIC Part 5
Especially, vocabulary part 5 of the new format has been "upgraded" compared to that of the old format. Hence, preparing a wide range of vocabulary is really essential. Here is the list of vocabulary for TOEIC part 5 that you may meet.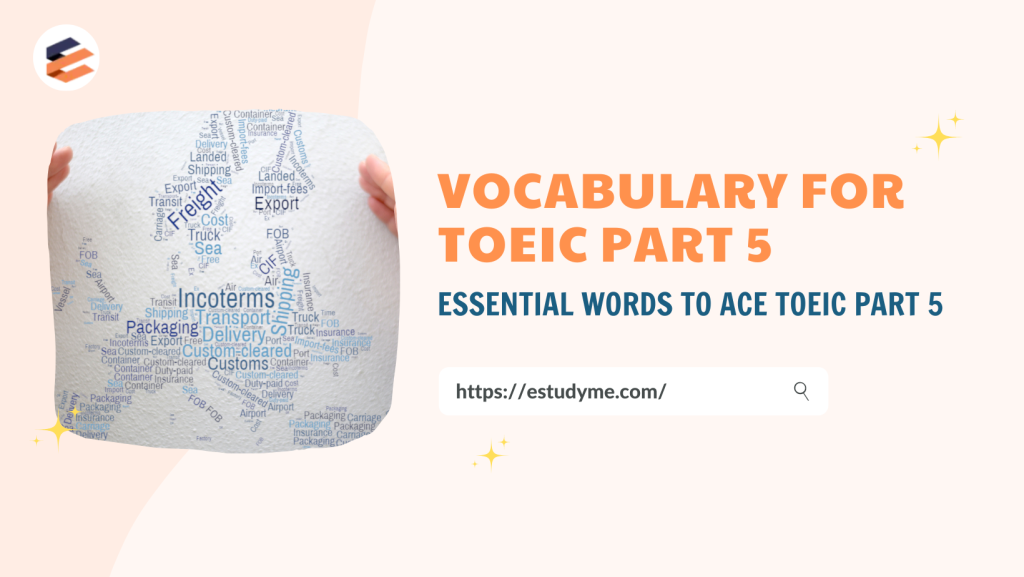 1. TOEIC PART 5 FORMAT
The TOEIC part 5 includes 30 questions. Each question has one blank. You have to choose one word or phrase (marked A-D) that fits best the blank.
TOEIC Part 5 also known as the "Incomplete Sentences" section, assesses your ability to complete sentences with appropriate words or phrases to create coherent and grammatically correct sentences. Here's the format of TOEIC Part 5:
1.1. Number of Questions
There are typically 40 questions in this section.
1.2. Format
Each question consists of a sentence with one or more blanks. Your task is to select the most suitable word or phrase from the four answer choices (A, B, C, D) to complete the sentence correctly.
1.3. Question Types
The questions in Part 5 test various aspects of your language skills, including:
Grammar: You may need to choose words or phrases that fit grammatically within the sentence.
Vocabulary: Some questions require you to select words or phrases that are contextually appropriate and convey the intended meaning.
Collocation: You may need to choose words that commonly collocate or go together in English.
Idiomatic Usage: Certain questions assess your knowledge of idiomatic expressions and correct word usage.
1.4. Timing
The total time allocated for TOEIC Part 5 varies but is typically around 25 minutes.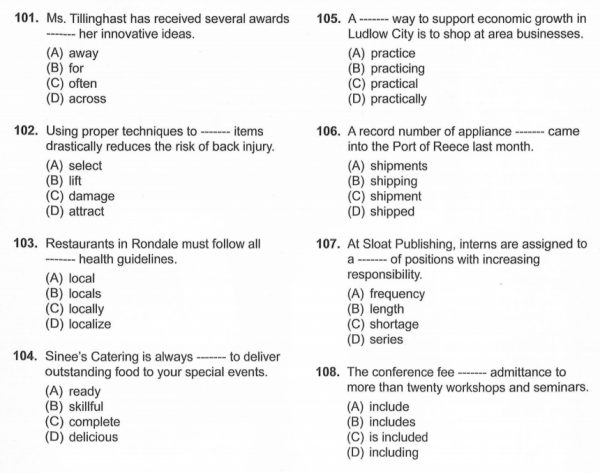 1.5. Scoring
Your score is determined by the number of correct answers. There is no penalty for guessing, so it's advisable to answer every question, even if you're unsure.
1.6. Difficulty
The questions in Part 5 often progress in difficulty, with the early questions being easier and the later ones more challenging.
1.7. Passage Topics
The sentence completion questions in Part 5 can cover a wide range of business-related topics, such as marketing, finance, human resources, management, and more.
2. COMMON VOCABULARY FOR TOEIC PART 5
Here's a list of common vocabulary words and phrases organized by these topics:
2.1. Marketing
Campaign
Strategy
Promotion
Advertisement
Target audience
Market research
Product launch
Branding
Sales revenue
Consumer behavior
2.2. Finance
Investment
Budget
Profit margin
Expenses
Financial statement
Revenue
Assets
Liabilities
Stock market
Credit rating
2.3. Human Resources
Recruitment
Training
Employee benefits
Compensation
Job interview
Performance appraisal
Diversity
Employee turnover
Leadership
Workplace culture
2.4. Management
Leadership
Decision-making
Teamwork
Efficiency
Innovation
Strategy implementation
Project management
Supervision
Accountability
Conflict resolution
2.5. Business Communication
Correspondence
Memo
Proposal
Presentation
Negotiation
Email etiquette
Conference call
Report
Agenda
Minutes
2.6. Sales and Customer Service
Customer satisfaction
Client relationship
Sales pitch
After-sales support
Customer feedback
Account management
Cold calling
Complaint resolution
Sales targets
Lead generation
2.7. Manufacturing and Production
Quality control
Production process
Inventory management
Supply chain
Efficiency
Manufacturing facility
Lean production
Automation
Raw materials
Product assembly
2.8. International Business
Globalization
Export/import
Cross-cultural communication
Tariffs
Market expansion
International trade
Multinational corporation
Trade agreements
Exchange rate
Overseas market
>>Read more: vocabulary for TOEIC part 4
2.9. Office Technology
Computer software
Hardware
IT support
Database
Network
Cloud computing
Cybersecurity
Troubleshooting
Software updates
Office equipment
2.10. Business Ethics
Ethics code
Integrity
Transparency
Compliance
Corporate responsibility
Whistleblower
Ethical dilemma
Accountability
Sustainable practices
Fair trade
By comprehensively understanding the common vocabulary for TOEIC part 5 associated with various business themes, practicing sentence completion exercises, and honing their grammatical and contextual skills, test-takers can enhance their performance in TOEIC Part 5. Moreover, the proficiency gained here has real-world applications, empowering individuals to excel in professional communication, academic pursuits, and international career opportunities.
In conclusion, TOEIC Vocabulary Part 5 represents a bridge to effective language use in business and workplace settings. It is a skill worth mastering, as it opens doors to a world of international opportunities, where linguistic competence is a cornerstone of success. If you want to master the TOEIC exam, why not take TOEIC online practice test on our website now!