Common Vocabulary For TOEIC Part 2
In today's essay, we will delve into the significance of Vocabulary for TOEIC Part 2, a pivotal component of the TOEIC exam. This section is not just a mere assessment of your language proficiency; it is a gateway to unlocking numerous opportunities in the global professional landscape. Understanding its importance and mastering it can be the key to success for those aiming to excel in international business communication and beyond.
So, let's begin on this journey to discover the profound relevance of TOEIC Vocabulary Part 2 and how it can pave the way for your future success in a globalized world.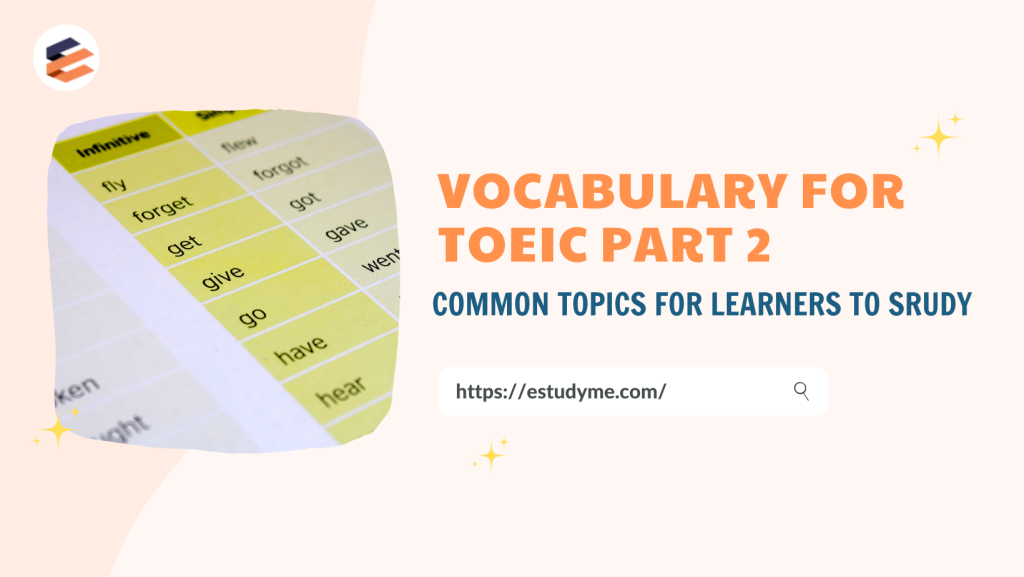 1. TOEIC part 2 format
The TOEIC part 2 includes 25 questions. For each question, you have to listen to a question and 3 possible responses. Then you have to choose the best response for the question.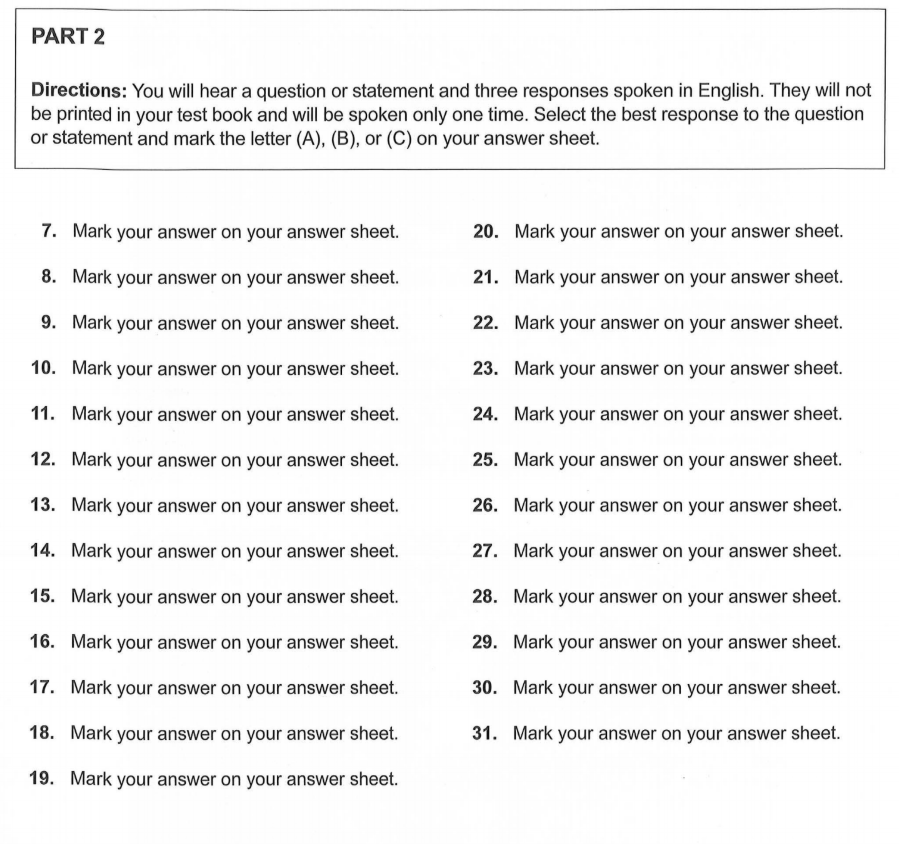 2. Common vocabulary for Toeic part 2
Here are words and phrases are commonly encountered in TOEIC Part 2 questions across various topics. Familiarizing yourself with these vocabulary items can help improve your performance on the exam.
2. 1. Work and Employment:
Employee
Employer
Salary
Promotion
Job interview
Resume
Benefits
Commute
Overtime
Retirement
2.2. Business and Finance:
Profit
Investment
Budget
Market
Competition
Stock
Entrepreneur
Revenue
Invoice
Client
2.3. Travel and Transportation:
Destination
Departure
Arrival
Ticket
Passport
Luggage
Boarding
Delay
Shuttle
Customs
2.4. Education and Training:
Curriculum
Degree
Classroom
Lecture
Enrollment
Textbook
Instructor
Graduation
Homework
Scholarships
2.5. Health and Well-being:
Wellness
Nutrition
Exercise
Prescription
Appointment
Clinic
Recovery
Symptoms
Insurance
Medication
2.6. Technology and Communication:
Wireless
Smartphone
Email
Software
Internet
Network
Device
Upgrade
Data
Social media
2.7. Environment and Sustainability:
Conservation
Renewable
Pollution
Recycling
Ecosystem
Carbon footprint
Sustainability
Eco-friendly
Climate change
Green energy
2.8. Entertainment and Leisure:
Recreation
Concert
Theater
Exhibit
Artistic
Admission
Festival
Film
Performance
Amusement
2.9. Shopping and Consumerism:
Retail
Discount
Sale
Consumer
Purchase
Merchandise
Brand
Checkout
Receipt
Bargain
2.10. Housing and Real Estate:
Mortgage
Landlord
Tenant
Property
Lease
Renovation
Residence
Realtor
Deposit
Utilities
>>Read more: vocabulary for TOEIC part 1
In essence, vocabulary for TOEIC Part 2 serves as a valuable stepping stone towards your broader linguistic and professional aspirations. Embrace the knowledge gained through this section and let it propel you towards a future filled with opportunities, where your ability to communicate effectively in English knows no bounds.
Above is the list of common vocabulary for TOEIC part 2. Hope you study well and soon obtain your target score! Besides, we provide TOEIC learners with a variety of TOEIC practice test, let's take them now!