Unleashing Your Potential: The Best 5 TOEIC Apps for Language Excellence
In the age of smartphones and on-the-go learning, mastering the Test of English for International Communication (TOEIC) has become more accessible than ever. With just a few taps on your device, you can access a world of language-learning resources that fit seamlessly into your daily routine. Welcome to the world of TOEIC apps – your pocket-sized companions on the journey to linguistic excellence. In this guide, we are going to introduce the TOP 5 best TOEIC apps for you!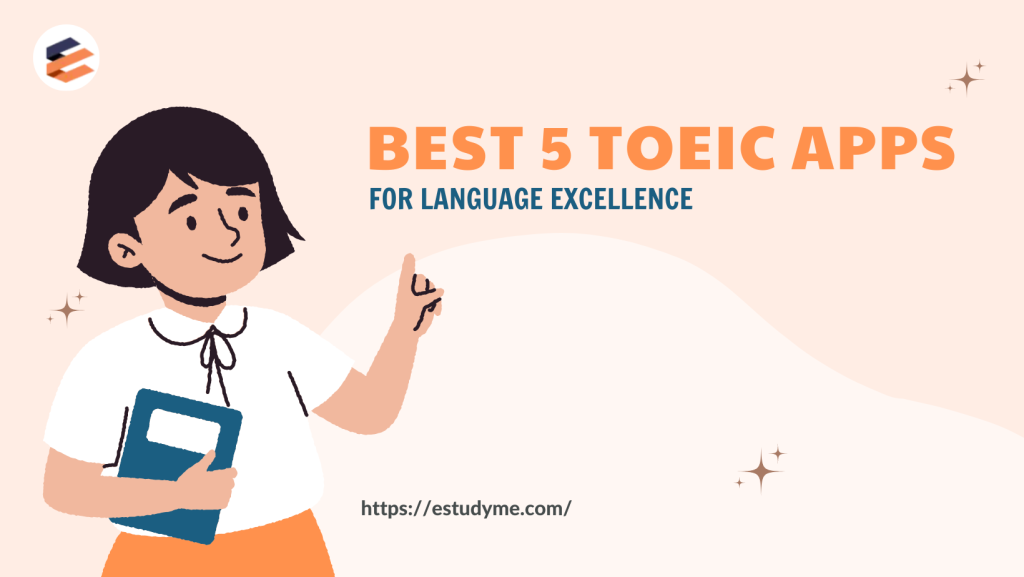 1. Toeic Test Pro
With Toeic Test Pro, you can study for free with a great number of practice tests, grammar and vocabulary exercises as well as score reports with detailed analytics. Best of all, you can easily get access to these features anywhere and anytime when you download the app.
When you practice questions on Toeic Test Pro, the app will track your performance and highlight your strengths and weaknesses, helping you to enhance your test score.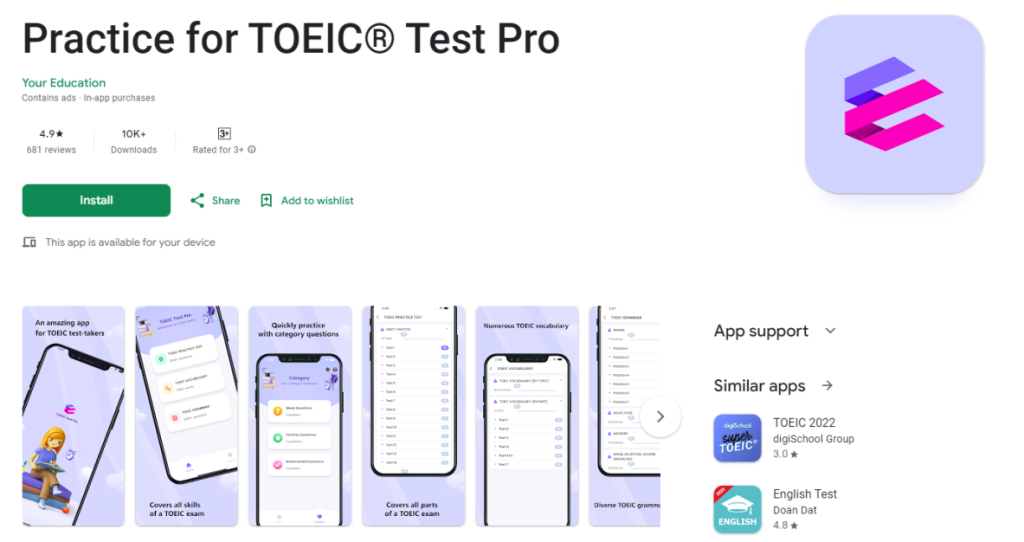 In short, Toeic Test Pro has:
– Great contents: Toeic Test Pro offers diverse sets of questions which are compiled by expert tutors and cover all sections of a Toeic exam. Thousands of questions are constantly updated according to the new format including the following parts:
– Part 1: Photos
– Part 2: Questions and Responses
– Part 3: Conversations
– Part 4: Talks
– Part 5: Incomplete sentences
– Part 6: Text Completion
– Part 7: Single Passages
– Part 7: Double Passages
– Part 7: Triple Passages
– Major features:
+ Remind learning schedule: Set the time to receive notifications to study when needed.
+ Assess tests: Give evaluations and update your scores to help you identify your strengths and weaknesses.
+ Connect members: You can directly discuss with other members on the app.
+ Connect Internet: Support offline mode.
2. Enny Toeic
Enny Toeic is an interesting and full-featured Toeic app. It provides various kinds of exercises from easy to difficult. Enny Toeic is free for everyone, but in order not to be bothered by ads, you can purchase app packages.
– Advantages:
Learners can interact and discuss with each other

Each exercise gives correct answers and clear explanations
– Disadvantages:
The function of taking tests hasn't been developed.

Information about the test format hasn't been provided.

The function of updating and evaluating students' progress hasn't been developed which makes it hard for you to know your current score.
3. eJOY Toeic Word Store
eJOY Toeic Word Store is created to mainly assist learners in boosting their vocabulary. It is considered one of the most effective apps for Toeic learners currently.
– Advantages:
The app helps users learn new words in specific contexts.

Vocabulary is divided into topics and parts of speech.

Learners can use the app on different devices such as smartphones and laptops.
– Disadvantages:
Because eJOY Toeic Word Store is a vocabulary app, it doesn't have TOEIC tests. This makes learners unable to get access to the test format.
4. Duolingo
Duolingo was recognized as "Best education start-up award" by TechCrunch. This is one of the most popular apps chosen by many English learners.
– Advantages:
You will have exciting learning experiences as lessons and exercises are designed in the type of games. Specifically, learners will complete tasks by answering questions.

The app has a part called "Streak" which acknowledges your learning results.
– Disadvantages:
Since learners study and practice through games, they can't get familiar with the test format.
5. TOEIC Mastery
TOEIC Mastery is regarded as one of the best apps for Toeic learners. It has received many praises from experts as well as learners.
– Advantages:
After finishing each test, you can find correct answers as well as explanations. These will help you identify your weaknesses and avoid them in the upcoming times of taking tests.
– Disadvantages:
The app's interface is outdated and not eye-catching.
Here's to the fusion of modern technology and traditional learning, propelling you to heights of language proficiency and global communication. Besides, if you are looking for the best TOEIC websites, you can take a look at our list. Get ready to unlock doors that lead to new horizons, armed with the power of the best TOEIC app. Your journey has just begun, and the path ahead is filled with promise. Let's take a TOEIC practice test now!